Thank you for your interest in the Chemistry PhD Program at the University of Illinois at Urbana-Champaign. More information about the PhD program is found on the graduate degrees page. Our recommended application deadline for full consideration for the Fall 2019 semester is December 1, 2018. However, we strongly encourage earlier submission of applications to maximize opportunities for fellowships. We do not accept applications for spring semester admission.

Basic Admission Requirements for the Chemistry PhD Program
The basic requirements for admission to the graduate program in chemistry are an undergraduate degree with at least 25 semester hours in chemistry (properly distributed) and a grade-point average of 3.0 on a 4.0 scale. Your academic record and recommendations must be a strong indicator of your fitness to pursue advanced study and research in chemistry.
We ask applicants for admission to our graduate program to submit the following information:
A completed online application form
Resume
Three letters of reference
Official transcripts of all previous undergraduate and graduate work (one transcript for each institution attended). Electronic Transcripts must be requested from your college/university. "Self-service transcripts" and/or grade lists that students are able to pull from their account without submitting a request to their college/university will not be accepted. 
Official Graduate Records Examination General test scores
Official Graduate Records Examination Chemistry Subject test scores (optional but recommended if you believe the scores will support your application)
Official English Language Proficiency test scores All International Students should click the link to verify whether or not you will be required to submit scores for English Proficiency.  

Areas Of Study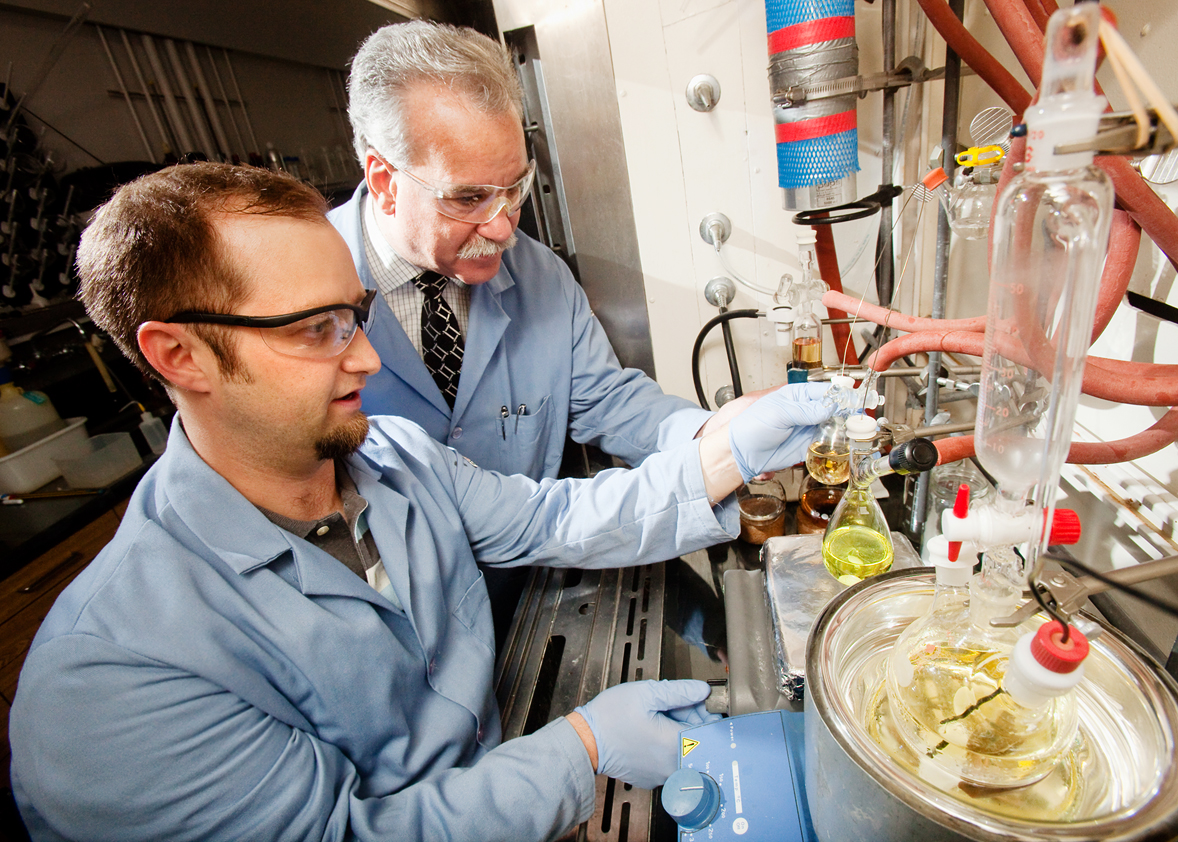 Within the Department of Chemistry areas of study include analytical, chemical biology, inorganic, materials, organic, and physical chemistry. Applications for those interested in pursuing a Master's degree are not encouraged except for the Master's Program in the Teaching of Chemistry and the Joint Degree Program in Chemistry.
Master's Program in the Teaching of Chemistry
Applicants interested in the Master's Program in the Teaching of Chemistry are expected to have a valid teaching certificate in addition to the usual undergraduate background in chemistry. Those who do not have a valid teaching certificate should plan to spend an additional year in the program for student teaching and to take other courses required for the certificate.
Joint Degree Program - JD/MS in Chemistry
View a complete description of the Joint Degree Program.

Transfer Students
A student who is currently enrolled in other graduate programs must complete the degree you are currently pursuing before being considered for admission to our program. Only under exceptional circumstances might a student be admitted without a degree from their current institution. In all cases, we require a statement from the applicant detailing the situation and a letter from the applicant's research advisor or department head.

Graduate Application Fee
The application fee is $70 for US citizens and permanent residents and $90 for all other applicants. The application fee must be paid by credit card at the time the online application is submitted. Application fees are non-refundable. In some instances, students involved in certain domestic programs may be eligible for a fee waiver, as described in more detail at the Graduate College website.

Graduate Application Process
Please contact us if you have any questions about the application process.
To apply online, please fill out the Graduate College Application. (Code listings needed to fill out the application form can be found below.)
If you cannot apply online, please email us.
We do not require the Declaration and Certification of Finances Form at the time of application. The Chemistry Graduate Admissions Office will contact you if a form is needed.
International applicants must upload a copy of their passport.

Program Codes and Field of Specialization Listings
Program Codes
10KS0335PHD — Chemistry-PHD
10KS0294MS — Teaching of Chemistry-MS
10KS8101NONE — Joint Degree Program- Chemistry MS/Law JD
Fields of Specialization for the Chemistry PhD Program (10KS0335PHD)
(Please list up to 3 areas on your applications under "Specialization")
Analytical
Chemical Biology
Inorganic
Materials
Organic
Physical

Fellowship and Award Opportunities
A large number of fellowships are awarded to graduate students in the Department of Chemistry at the University of Illinois. These range from Departmental fellowships sponsored by chemical companies and private donations to national fellowships from various federal and private foundations. Details about specific opportunities can be found at the following website. 

Information
For more information about the graduate program in chemistry, please view our Graduate Admissions Program Flyer.
If you have specific questions about our program or our application process, please email our office at chem-adm@illinois.edu
Graduate Admissions
University of Illinois at Urbana-Champaign
109 Noyes Laboratory, MC-712, Box 57-1
505 South Mathews Avenue 
Urbana, IL 61801
Phone: (217) 244-6245
Fax: (217) 244-7091
Email: chem-adm@illinois.edu