$21.4 million project creates new research and classroom space.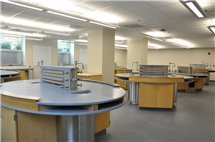 When students returned to classes for the 2017 spring semester, they might not have recognized their old classrooms. Years in the making, the Chemistry Annex renovations are complete.
The ambitious project included a complete renovation and construction of a 9,600-square-foot addition to the building on the southeast corner of the building along Mathews Avenue. All told, the addition and renovation provide a total of 52,000 square feet of state-of-the-art laboratory and instructional space.
"The driving force in the remodeling process was the labs, and really making sure we had state-of-the-art labs where students could start to learn the chemistry and get used to instrumentation and we could start teaching in more modern fashions," said Christian Ray, director of general chemistry.
The $21.4 million renovation provides transformative learning spaces for future education and research. The Academic Facilities Maintenance Fund Assessment, which comes from a $300-per-semester student fee, and institutional funds—composed primarily of money set aside from federal grants for overhead costs—have been instrumental to the success of the project. Private donations were also used for other upgrades.
Alumni and friends are encouraged to stop by for a visit to see the changes. A rededication ceremony is scheduled for 10 a.m. on Friday, Oct. 6. Opportunities to support the project still exist. Contact Joe Madden, assistant director of development for the Chemistry Department, at jsmadden@illinois.edu for more information.
The renovation started in 2014. During the renovation, many of the classes previously taught in Chemistry Annex (also known as Chem Annex) were taught in Noyes Lab. The general chemistry offices, which were also relocated to Noyes, have moved back to Chem Annex.
The renovation included complete remodeling and reassignment of existing spaces. The main general purpose auditorium was completely renovated and will include state of the art audio-visual equipment to enhance the learning environment of the space. Dow Chemical provided funding for the auditorium.
The Chemistry Learning Center was completely renovated with interiors to promote adaptability and a variety of furniture settings to promote individual study, one-on-one tutoring, and small and/or large group study and instruction, and places where students can receive additional assistance from professors and teaching assistants. There are now 8, 12 and 24-person conference rooms.
"If my office is full, we can just go down the hall and sit in one of the conference rooms or one of these other spaces to do any teaching that we need to do," Ray said.
Undergraduate instructional labs were completely renovated and include custom built downdraft hoods. This configuration minimizes equipment and ducting above waist height to allow for better instructor visibility throughout the space.
"We spent a lot of time thinking about what we wanted in the labs," Ray said, "and what we gravitated toward was having a very open concept and having very collaborative space so the students could work together, and the teaching assistants and instructors can see the whole lab (without) obstructions above waist level. You can see everything. It should be a very open welcoming lab environment and we spent a lot of time thinking about how to do things safely."
The addition includes a new main entrance and American with Disabilities Act (ADA) access at street level from Mathews Ave. The new entrance will allow for convenient access to a new elevator. There will also be ADA access directly into the auditorium from the Quad side.
All mechanical, electrical and plumbing were removed and replaced with equipment conforming to current standards.
 
---
Mary Jo Hettinger
January 17, 2017