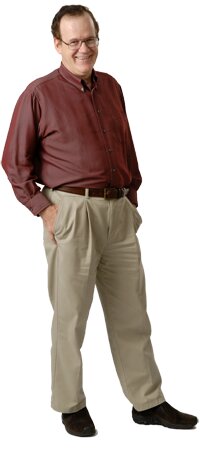 Contact Information
Department of Chemistry
461B RAL, MC-712, Box 37-5
600 S. Mathews Ave.
Urbana, IL 61801
Research Professor of Chemistry
Biography
Professor John A. Katzenellenbogen received his B.A. and Ph.D. from Harvard University and then joined the faculty at Illinois. His research interests involve organic and inorganic chemistry, biochemistry, molecular biology, and radiochemistry, with applications in cancer medicine (especially breast and prostate cancers), endocrine disorders, and neurological diseases (especially multiple sclerosis).
Research Description
Both the physiological and pathological actions of steroid hormones are mediated by their binding to specific, high-affinity binding receptor proteins found in hormone target tissues. We probe the molecular details of steroid hormone-receptor action using chemical and spectroscopic tools, and molecular and structural biology to understand how these interesting proteins work. We then use this understanding to design specific regulators for treating various diseases driven by these receptors, and novel agents for medical diagnostic procedures, including positron-emission tomographic (PET) imaging. Many of our studies are done in collaboration with structural, cell and molecular biologists, and with cancer and clinical medicine researchers.
Designed Hormones and Receptor Inhibitors
Based on our evolving understanding of receptor structure, we use organic synthesis and molecular biology to design ligands of novel structure, focusing on those having unusual biological activity and specificity. Some recently developed agents select between different cellular pathways of estrogen receptor signaling, providing many of the beneficial effects of estrogens while minimizing their undesirable effects.
Breast Cancer and Inflammatory and Neurological Disorders
Guided by structural studies of the estrogen receptor alpha, we are exploring new ways to design estrogen receptor antagonists that might have optimal activity in breast cancers that have become resistant to conventional hormone therapies. Our novel ligands for estrogen receptor beta show promising activity in animal models of endometriosis and multiple sclerosis and in some breast cancers, with promise for reversing established disease.
Probing Receptor Structure and Effects of Mutations.
We develop novel spectroscopic methods to analyze receptor structure, conformation, dynamics, and receptor-coregulator interactions, and to learn how these are affected by ligand structure. We use these tools to elucidate how mutational changes in these both interfere with or enhance their activities, thereby providing clues to how ligands might be designed to reverse these aberrant changes.
Radiopharmaceuticals and In Vivo Imaging Agents.
To image breast and prostate tumors in vivo by positron-emission tomography (PET), we are designing steroid analogs with exceptional binding affinity and selectivities for receptors in these cancers. When labeled with the radionuclide fluorine-18 (t1/2 = 110 min), these agents provide clear images of tumors and their metastases based on their levels of estrogen, progesterone, or androgen receptors. These agents are being actively used in clinical research studies to guide and improve therapies for these cancers. One of our agents, FES (16α-[18F]Fluoroestradiol), was recently approved by the FDA for use in breast cancer.
Awards and Honors
Medicinal Chemistry Hall of Fame, American Chemical Society, 2018
Outstanding Achievement in Chemistry in Cancer Research, American Association for Cancer Research, 2018
The Presidents Award from the Society of Radiopharmaceutical Sciences, 2017
Fred Conrad Koch Lifetime Achievement Award from the Endocrine Society, 2016
Philip S. Portoghese Medicinal Chemistry Lectureship Award, American Chemical Society, 2010
Leading Edge in Basic Science Award from the Society for Toxicology, 2009
Royal Society of Chemistry Centenary Lectureship, 2008
Gustavus John Esselen Award for Chemistry in the Public Interest, American Chemical Society, 2008
E. B. Hershberg Award for Important Discoveries in Medicinally Active Products, American Chemical Society, 2007
Highlighted Publications
Journal Articles
Katzenellenbogen JA. The quest for improving the management of breast cancer by functional imaging: The discovery and development of 16α-[18F]fluoroestradiol (FES), a PET radiotracer for the estrogen receptor, a historical review. Nucl Med Biol. 2020 Feb 22:S0969-8051(20)30028-7. doi: 10.1016/j.nucmedbio.2020.02.007. Online ahead of print. PMID: 32229068.
Ziegler Y, Laws MJ, Sanabria Guillen V, Kim SH, Dey P, Smith BP, Gong P, Bindman N, Zhao Y, Carlson K, Yasuda MA, Singh D, Li Z, El-Ashry D, Madak-Erdogan Z, Katzenellenbogen JA, Katzenellenbogen BS. Suppression of FOXM1 activities and breast cancer growth in vitro and in vivo by a new class of compounds.  NPJ Breast Cancer. 2019;5:45. doi: 10.1038/s41523-019-0141-7. eCollection 2019. PMID: 31815181 
Karim H, Kim SH, Lauderdale K, Lapato AS, Atkinson K, Yasui N, Yamate-Morgan H, Sekyi M, Katzenellenbogen JA, Tiwari-Woodruff SK. Analogues of ERβ ligand chloroindazole exert immunomodulatory and remyelinating effects in a mouse model of multiple sclerosis. Science Reports. 2019: 9:503. doi: 10.1038/s41598-018-37420-x. PMID: 30679747 
Sharma A, Toy W, Guillen VS, Sharma N, Min J, Carlson KE, Mayne CG, Lin S, Sabio M, Greene G, Katzenellenbogen BS, Chandarlapaty S, Katzenellenbogen JA. Antagonists for Constitutively Active Mutant Estrogen Receptors: Insights into the Roles of Antiestrogen-Core and Side-Chain. ACS Chemistry and Biology. 2018: 13:3374-3384. doi: 10.1021/acschembio.8b00877. Epub 2018 Nov 26. PMID: 30404440
Ippagunta SK, Pollock JA, Sharma N, Lin W, Chen T, Tawaratsumida K, High AA, Min J, Chen Y, Guy RK, Redecke V, Katzenellenbogen JA, Häcker H. Identification of Toll-like receptor signaling inhibitors based on selective activation of hierarchically acting signaling proteins. Science Signaling. 2018: 11(543):eaaq1077. doi: 10.1126/scisignal.aaq1077. PMID: 30108181
Katzenellenbogen JA, Mayne CG, Katzenellenbogen BS, Greene GL, Chandarlapaty S. Structural underpinnings of oestrogen receptor mutations in endocrine therapy resistance.  Nature Reviews Cancer. 2018 6:377-388. doi: 10.1038/s41568-018-0001-z. PMID: 29662238
Zhao Y, Laws MJ, Guillen VS, Ziegler Y, Min J, Sharma A, Kim SH, Chu D, Park BH, Oesterreich S, Mao C, Shapiro DJ, Nettles KW, Katzenellenbogen JA, Katzenellenbogen BS. Structurally Novel Antiestrogens Elicit Differential Responses from Constitutively Active Mutant Estrogen Receptors in Breast Cancer Cells and Tumors. Cancer Res. 2017 Oct 15;77(20):5602-5613. doi: 10.1158/0008-5472.CAN-17-1265. Epub 2017 Sep 13. PMID: 28904064
Min J, Guillen VS, Sharma A, Zhao Y, Ziegler Y, Gong P, Mayne CG, Srinivasan S, Kim SH, Carlson KE, Nettles KW, Katzenellenbogen BS, Katzenellenbogen JA. Adamantyl Antiestrogens with Novel Side Chains Reveal a Spectrum of Activities in Suppressing Estrogen Receptor Mediated Activities in Breast Cancer Cells. J Med Chem. 2017 Jul 27;60(14):6321-6336. doi: 10.1021/acs.jmedchem.7b00585. Epub 2017 Jul 14. PMID: 28657320
Srinivasan S, Nwachukwu JC, Bruno NE, Dharmarajan V, Goswami D, Kastrati I, Novick S, Nowak J, Cavett V, Zhou HB, Boonmuen N, Zhao Y, Min J, Frasor J, Katzenellenbogen BS, Griffin PR, Katzenellenbogen JA, Nettles KW. Full antagonism of the estrogen receptor without a prototypical ligand side chain. Nat Chem Biol. 2017 Jan;13(1):111-118. doi: 10.1038/nchembio.2236. Epub 2016 Nov 21. PMID: 27870835
Madak-Erdogan Z, Kim SH, Gong P, Zhao YC, Zhang H, Chambliss KL, Carlson KE, Mayne CG, Shaul PW, Korach KS, Katzenellenbogen JA, Katzenellenbogen BS. Design of pathway preferential estrogens that provide beneficial metabolic and vascular effects without stimulating reproductive tissues. Sci Signal. 2016 May 24;9(429):ra53. doi: 10.1126/scisignal.aad8170. PMID: 27221711 
For a full list of publications, see: https://pubmed.ncbi.nlm.nih.gov/?term=katzenellenbogen+ja&sort=date&size=200.