"NDSEG fellowships are designed to increase the number of U.S. citizens and nationals trained in science and engineering disciplines of military importance. On average, about 10 percent of applicants are selected and this year 189 students nationwide received awards."
James Christensen, Brad Nakamura, and Ian Robertson have been awarded prestigious National Defense Science and Engineering Graduate fellowships for the U.S. Department of Defense.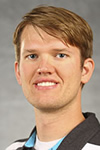 James Christensen is a graduate student with Dana Dlott and is researching fluorescent silica particles as probes for pressure waves. He explains, "As a materials chemist in a spectroscopy group, my work involves the design of spectroscopic probes of nonperturbative size able to measure responses to local pressure, temperature, and
composition."
Brad Nakakamura is a graduate student in the Paul Hergenrother research group and works on developing novel compounds with medicinal activity against antibiotic resistant bacteria.
Ian Robertson, a member of the Jeffrey Moore research group, works on developing materials that can be quickly stiffened on demand in order to provide reinforcement or prevent damage during potentially harmful scenarios.
Some exerpts from the UIUC News Bureau article included