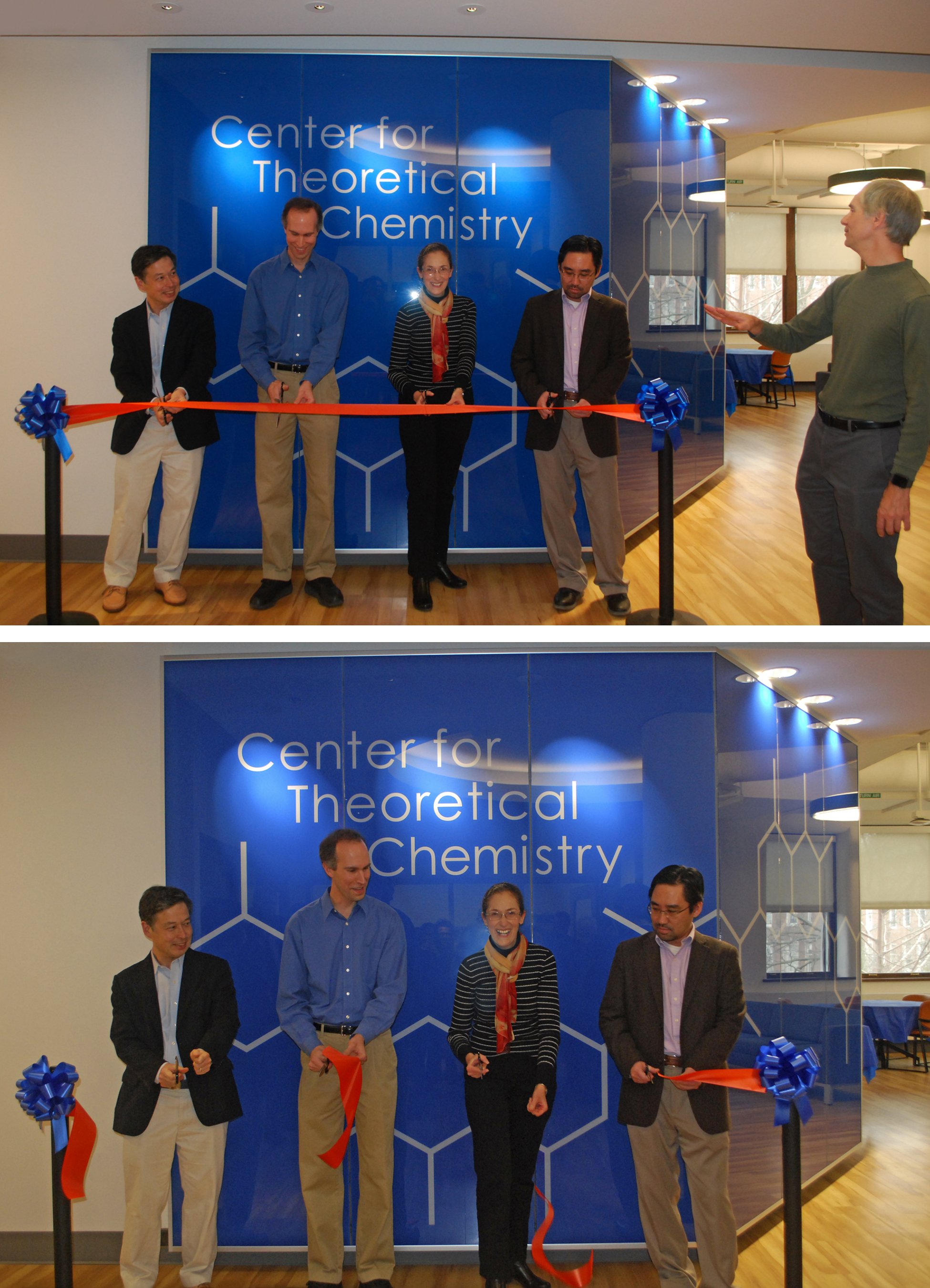 A ribbon cutting ceremony was held on Wednesday, March 29, 2018 to commemorate the new state-of-the-art Center for Theoretical Chemistry.
Bringing theoretical chemists together in one unified space is the key to the whole project, said Prof. Benjamin McCall, who guided the project through all its phases.
The Center can accommodate four research groups in theoretical chemistry, including offices and collaborative work space for 40 graduate students, postdoctoral fellows, and faculty. Students and faculty in theoretical chemistry conduct a wide range of research, from calculating the quantum properties of molecules and their solvents, to simulations of large biological and materials systems, and even inquiries into the origins of life. The Hirata and Makri theoretical chemistry groups have already moved in, and the Luthey-Schulten and Pogorelov groups will follow once an HVAC and departmental office remodeling project are completed.
Construction of the Theory Center began in June 2016 in Noyes Lab on the southeast section of the third floor. A total of 10,600-square-feet was remodeled. The construction was completed in December 2017. Even its future occupants contributed to the process, such as Prof. Nancy Makri working with architects on the commons space design and layout.
The Department would like to acknowledge in particular the dedicated service of Chad Stevens, the Director of Facilities and Safety for the School of Chemical Sciences (SCS), Ken Wooldridge, the Operations Manager for SCS , and Benjamin McCall, Professor of Chemistry and Astronomy and Associate Head of Major Projects for the Department of Chemistry.
---
Mary Jo Hettinger