The first-of-its-kind Molecule Maker Lab, part of the Medical Maker Lab at Illinois, will empower physician-innovators at the Carle Illinois College of Medicine, and citizen scientists from around the world, to create molecules on-demand. This powerful new concept could do for health innovation what 3-D printing did for engineering: bring innovative solutions to anyone anywhere. It could enable rapid new drug development and other technologies that rely on small molecules.
Living Proof: making the future of medicine
Dr. Martin Burke, interim associate dean for research at the Carle Illinois College of Medicine, created the molecule making machine and leads the effort to develop the Molecule Maker Lab. Dr. Burke utilizes his on-demand molecule-making machine to develop molecular prosthetics, small molecules that replace missing proteins and restore function in cells. These prosthetics may treat diseases such as anemias, cystic fibrosis or certain types of heart disease.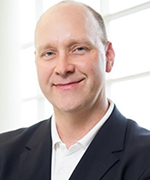 Chad Rienstra, professor at the Carle Illinois College of Medicine, and his team of researchers have collaborated with the Burke lab to elucidate the mode of action of the anti-fungal drug amphotericin B, utilizing samples prepared by the Lego-like platform that underlies the synthesis machine, along with bacterial expression. These results are leading to rational design of improved antifungal therapeutics, and similar strategies are being employed by the Rienstra lab to understand Parkinson's disease.
Learn More
The Beckman Institute recently hosted a Tech Talk featuring the Molecule Maker Lab. Click here to see the PowerPoint presentation about the Molecule Maker Lab.
---
Carle Illinois College of Medicine