Professor James Spudich (BS, '63), Stanford University School of Medicine, was chosen to receive the University of Illinois Alumni Achievement Award for 2018. The selection is done by fellow alumni and is the highest honor one may receive from the Alumni Alliance. As quoted from Jennifer Lewis Neubauer, President, University of Illinois Alumni Alliance "This award is presented to alumni who have attained outstanding success and national or international distinction in their chosen profession or life's work."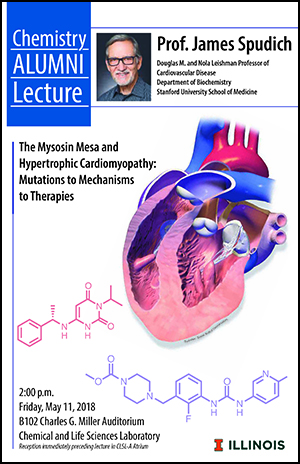 On May 11, after giving a lecture earlier in the day on "The Mysosin Mesa and Hypertrophic Cardiomyopathy; Mutations to Mechanisms to Therapies," Prof. Spudich went on to receive his award at the Alice Campbell Alumni Center. The award was presented by University of Illinois President Tim Killeen, Illinois Chancellor Robert Jones, other members of the Alumni Alliance, distinguished alumni and University leaders.
Read the Illinois Alumni article here.