Nine faculty members at the University of Illinois at Urbana-Champaign have been named to the 2018 Clarivate Analytics Highly Cited Researchers list.
The list recognizes "leading researchers in the sciences and social sciences from around the world," according to Clarivate Analytics.  It is based on an analysis of journal article publication and citation data, an objective measure of a researcher's influence, from 2005-17.
The highly cited Illinois chemists this year are: Prashant Jain, Catherine Murphy and Yi Lu.
Jain is the associate head of major projects in the department of chemistry. He investigates light-matter interactions in nanoscale materials. He also is a Richard and Margaret Romano Professorial Scholar and an I.C. Gunsalus Scholar. He has affiliations with the department of physics, the Materials Research Laboratory and the Beckman Institute for Advanced Science and Technology at Illinois.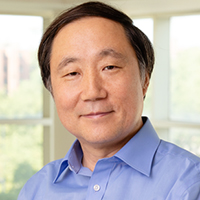 Lu, the Jay and Ann Schenck Professor of Chemistry at Illinois, focuses on the design and engineering of metalloenzymes and functional DNA nanomaterials. Specifically, he studies their applications as biocatalysts in alternative-energy applications and as sensors and imaging agents for use in environmental monitoring, food safety and medical diagnostics. He is a Fellow of the American Association for the Advancement of Science, a Fellow of the Royal Society of Chemistry and a recipient of a Howard Hughes Medical Institute Professors Award. He has appeared on the Highly Cited Researchers list every year since 2015.
Murphy is the Larry Faulkner Endowed Chair in Chemistry at Illinois. Her research focuses on developing diverse nanomaterials for applications in biology and biotechnology for imaging cells, chemical sensing and photothermal therapy. She also studies the environmental impact of nanoparticles and how their chemical properties influence their behavior. She is the associate director of the Materials Research Laboratory and is affiliated with the Micro and Nano Technology Laboratory and with the Beckman Institute at Illinois. She is a member of the National Academy of Sciences and a Fellow of the AAAS, the American Chemical Society and the Royal Society of Chemistry.
---
Partially excerpted from Illinois News Bureau, by Lois Yoksoulian, Physical Sciences Editor