St. Elmo Brady became the first African-American to earn a PhD in chemistry in the United States, graduating from the University of Illinois in 1916. On Tuesday, Feb. 5, 2019, the American Chemical Society (ACS) honored Brady with a National Historic Chemical Landmark at an all-day event in Noyes Laboratory.
The event began with opening comments from professor Jonathan Sweedler, director of the School of Chemical Sciences (SCS), and continued with tours of the Department of Chemistry, the Department of Chemical and Bimolecular Engineering, and the SCS facilities. The Illinois NOBCChE (National Organization for the Professional Advancement of Black Chemists and Chemical Engineers) chapter held a luncheon and poster session, and other workshops were held for faculty and students throughout the day.
The signature event was the dedication ceremony for the ACS National Historic Chemical Landmark, during which Peter K. Dorhout (BS, '85), immediate past president of ACS, presented the university with a bronze plaque to be mounted outside of 100 Noyes Laboratory.
"This landmark designation recognizes the outstanding accomplishments and leadership impact that Dr. Brady has had on the chemical profession," Dorhout said. "I am proud to be an alumnus of the university that was part of his legacy — dreaming, designing and executing the creation of four outstanding and impactful chemistry programs that have each worked to ensure access to higher education and the chemical professions for so many young African-American men and women over the last century."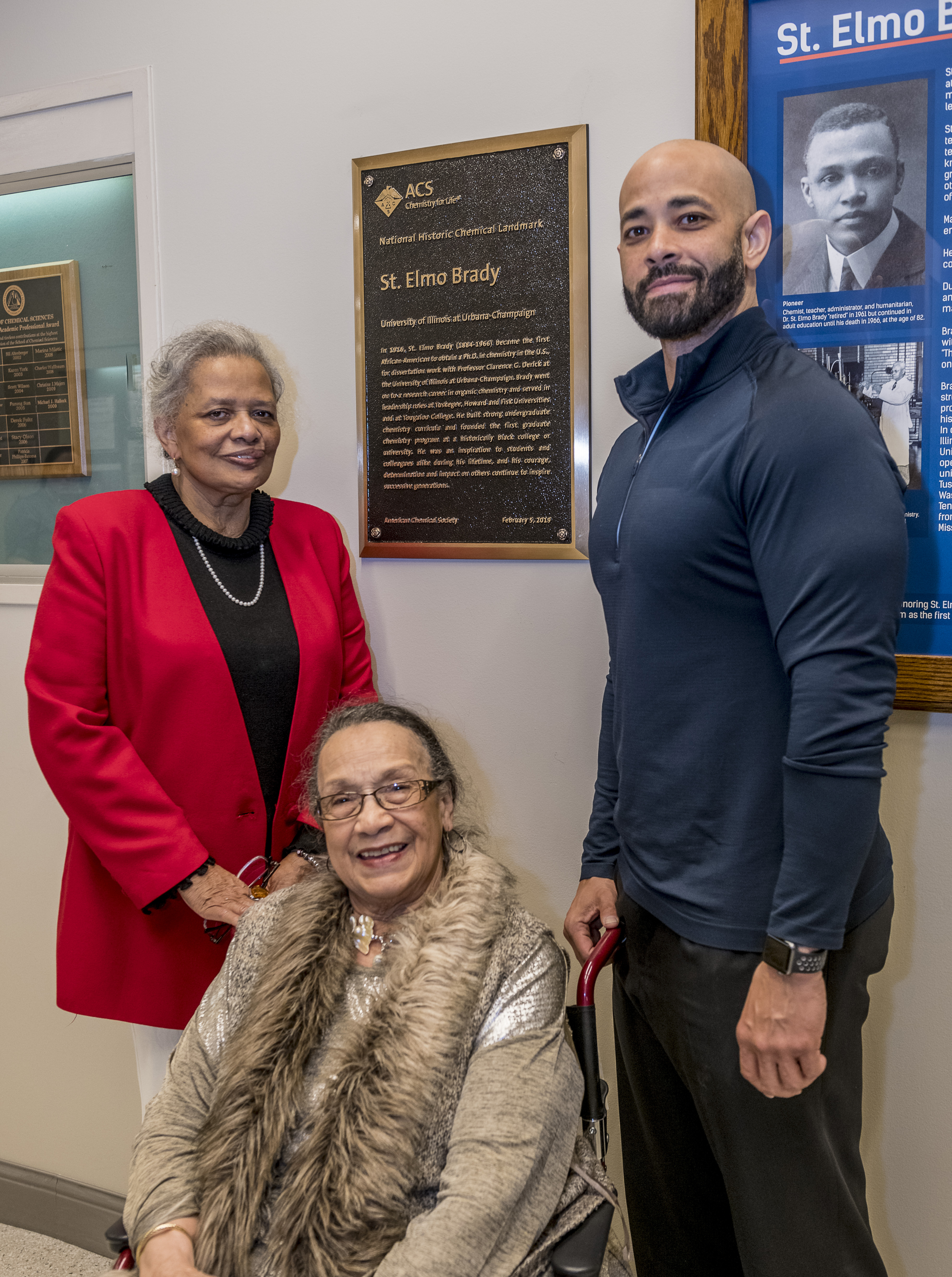 The ceremony also included video remarks from Chancellor Robert J. Jones, "Significance to the Campus" from Provost Andreas C. Cangellaris, and "History of Dr. St. Elmo Brady" by Jameatris Rimkus, University of Illinois Library Archivist, with Jonathan Sweedler giving the closing remarks. A reception was then held to celebrate the day's events.
Dr. Brady's family members attending were Carol Brady Fonvielle, Brady's granddaughter; W. Clay Fonvielle, Brady's great-grandson; Merle M. Watts, sister-in-law to Dr. Brady's son; and friend of the family Margie A. Utley. Also in attendance were representatives and students from Fisk University, Tuskegee University, Howard University and Tougaloo College—four other institutions to which Brady had strong ties and left an enduring legacy. In addition, representatives from Xavier University of Louisiana, an HBCU, joined the St. Elmo celebration, notably Professor Payton-Stewart and Dr. Ja'Wanda Grant (Special Assistant to the Provost for Scholar Development and Institutional Alliances).
The day-long celebration concluded with a performance by Portal Theatre of "No Belles: Stories of Women in Science," an inspirational performance about those who are underrepresented in the sciences.
Brady was born in Louisville in 1884. Prior to earning his Ph.D. at the University of Illinois, Brady earned a bachelor's degree at Fisk University, a historically black university, and taught four years at Tuskegee University. He also continued his career working at Tuskegee for four years. Afterward, he served as chair of chemistry departments at Howard University and Fisk University. He also taught at Tougaloo College, prior to his death in 1966.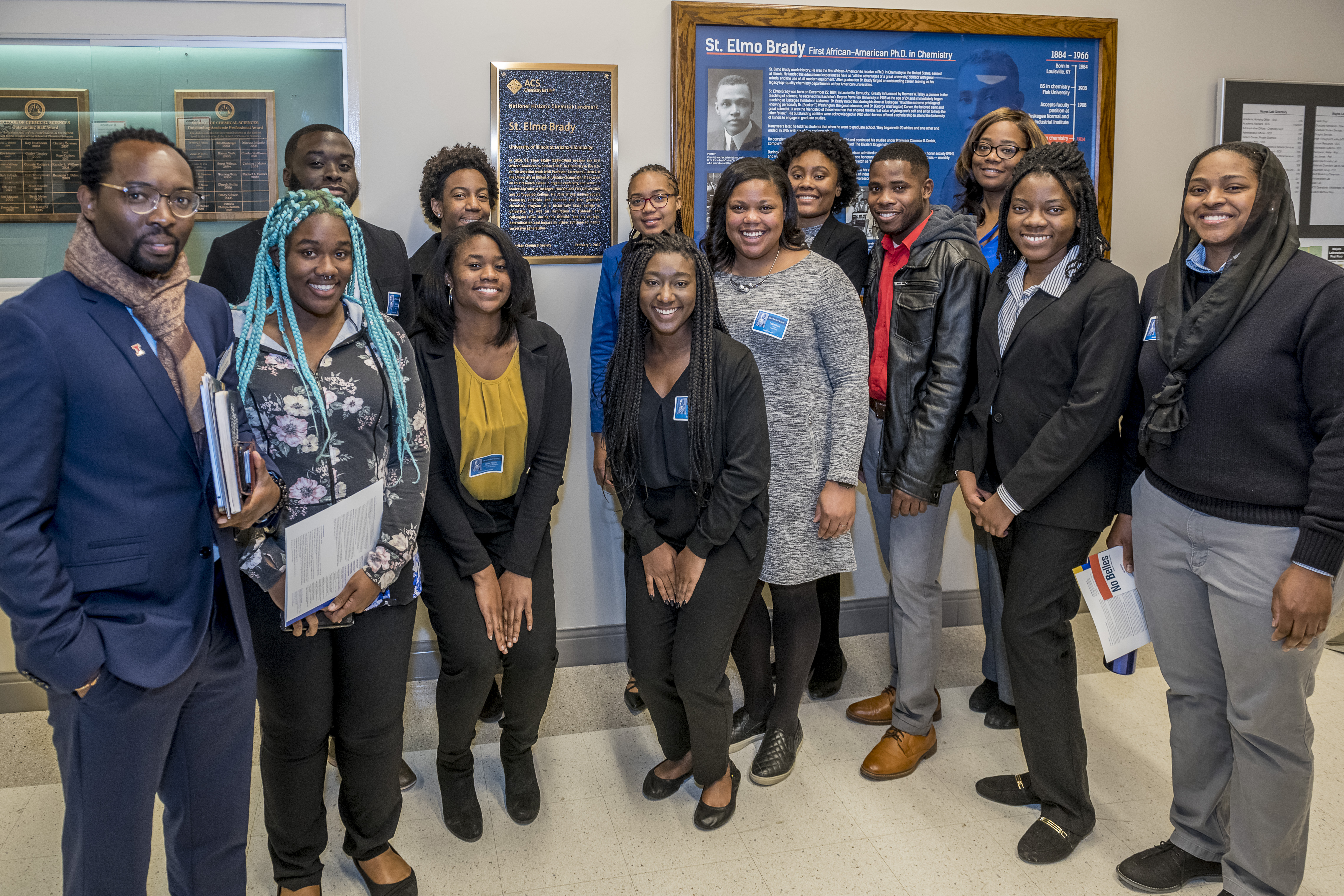 "Brady's most enduring legacy involves his efforts to enhance and create undergraduate curricula, graduate programs and fundraising efforts at four historically black colleges and universities: Fisk University, Tuskegee University, Howard University and Tougaloo College," said Jonathan Sweedler. Each of those campuses will host a celebration of Brady's achievements and mount a plaque in his honor.
ACS established the National Historic Chemical Landmarks program in 1992 to recognize seminal events in the history of chemistry and to increase awareness of the contributions of chemistry to society. Past landmarks include the discovery and production of penicillin, the invention of synthetic plastics, and the works of such notable scientific figures as educator George Washington Carver and environmentalist Rachel Carson. For more information, visit www.acs.org/landmarks.
The Department wishes to acknowledge Dr. Vera Mainz, retired director of the School's NMR Lab, whose initiative in nominating Brady and coordinating research on his life, career, and family made this event possible.
Media coverage:
WILL public radio
The News-Gazette
The ACS press release and landmark page
The U of I News Bureau release
The Daily Illini
More information about St. Elmo Brady
---
Mary Jo Hettinger