Shannon Murphy is a second-year graduate student in the Sweedler group and serves as the secretary for the Joint Safety Team (JST). Clare Leahy is a second-year graduate student in the Fout and Vura-Weis groups and serves as a working group coordinator for JST. Here they provide an overview of the department's 3rd Annual Safety Week, held last month. Maria Philip, a third-year graduate student in the Gewirth group and a JST working group coordinator, also contributed to this story.
---
During the week of May 13-17, the Department of Chemistry Joint Safety Team (JST) and Department of Chemistry Graduate Student Advisory Committee (DCGSAC) co-hosted the 3rd Annual Safety Week.
Safety Week focuses (unsurprisingly) on safety: emphasizing its importance in the laboratory, educating the department on current safety practices and policies, and presenting new and interesting perspectives on safety that everyone may not be familiar with or think about daily.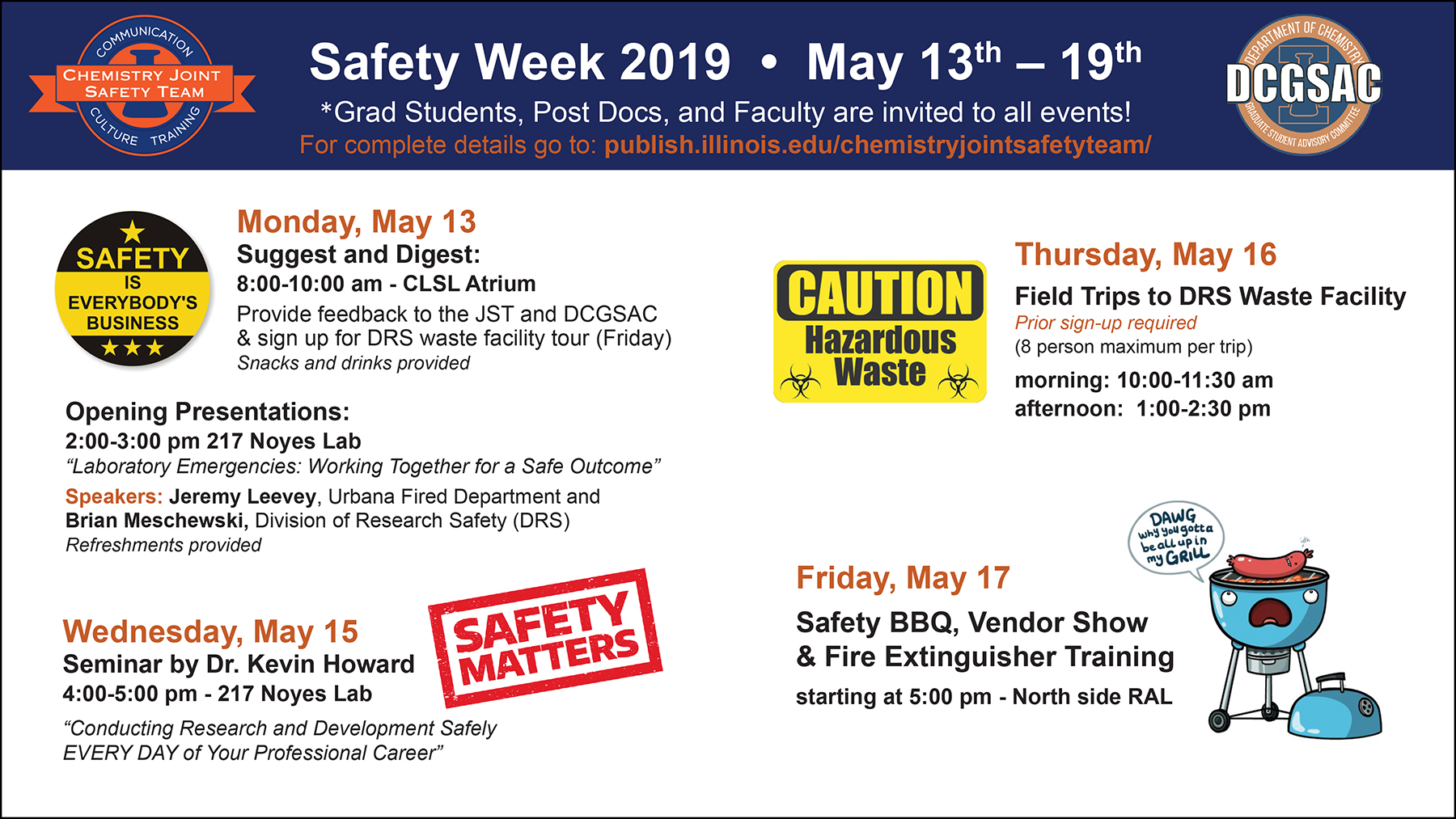 This year's event kicked off with Suggest and Digest on Monday morning, an opportunity for graduate students to chat over light refreshments and provide input on safety within the department.
This was followed by a presentation by Jeremy Leevy from the Urbana Fire Department and Brian Meschewski from the Division of Research Safety (DRS) in the afternoon. They discussed fire safety and emergencies in laboratories, using case studies from around campus. Morgan Center, treasurer for the JST, noted: "It was really helpful to learn all about how the fire department handles spills and other non-fire lab emergencies."
Other events throughout the week included an alumni presentation by Dr. Kevin Howard (PhD, '88, Rauchfuss) titled "Conducting Research and Development Safely EVERY DAY of Your Professional Career" and field trips to the DRS waste facility, which were very popular.
Safety Week wrapped up that Friday with a barbeque, a vendor show, and fire extinguisher training from Urbana Fire.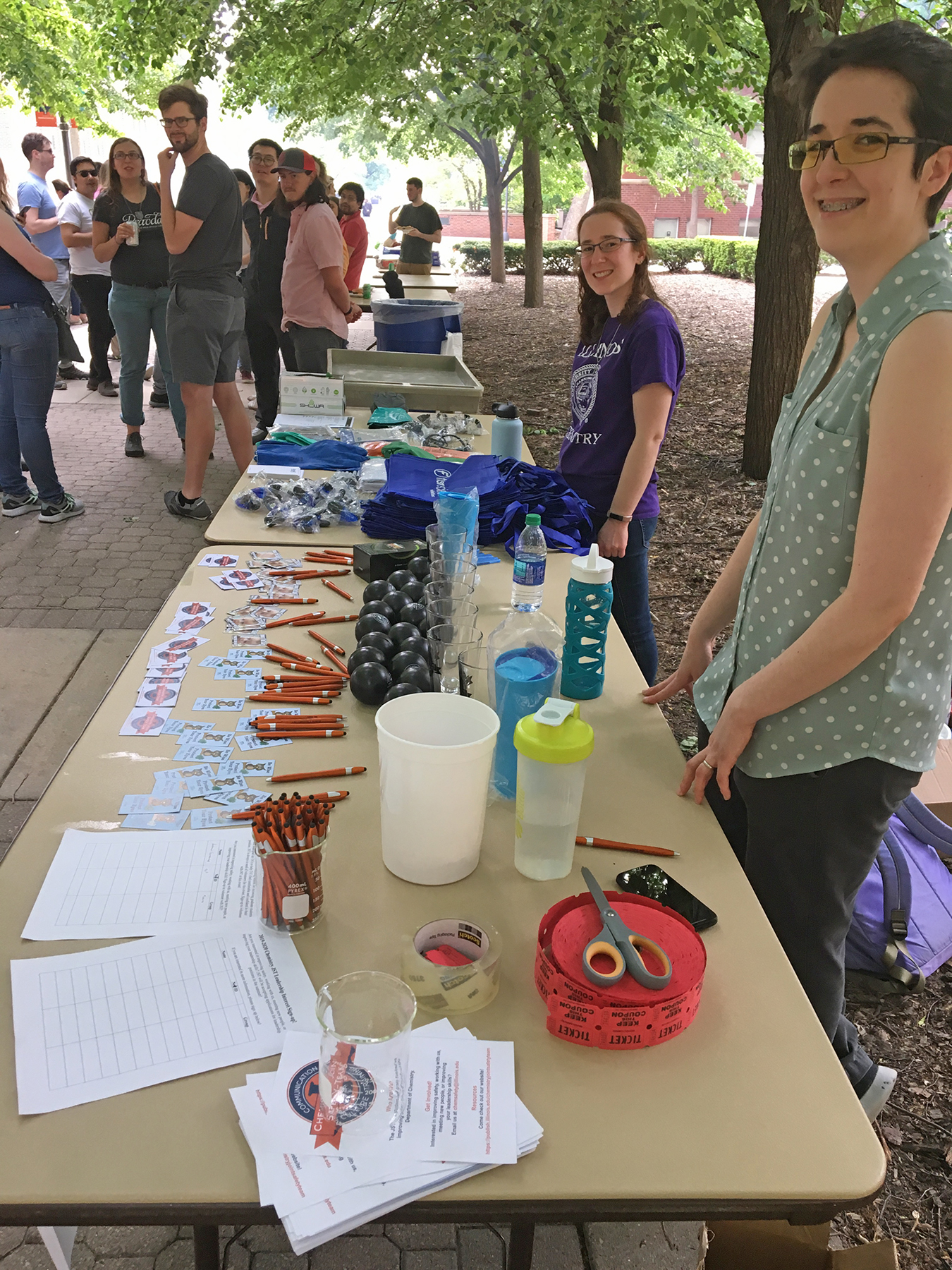 JST also rolled out a new initiative during Safety Week: Safe Operation Cards (SOCs). SOCs are designed to inform other lab personnel and visitors what reactions and processes are happening in a specific area of the lab (such as at the hood or bench) and the hazards that are associated with the reactions/processes. The SOCs allow researchers to include all the hazards related to their experiments so that fellow lab mates and any visitors are aware of risks present and are informed in case of emergencies or unexpected shutdowns. (More information about and templates to print out SOCs, get them laminated, and update them can be found on the JST website.)
Overall, the events were very well-received by the department. JST leadership hopes that by attending events during safety week, researchers were able to come away with new ideas and insights for working safely in the lab and connect with each other to promote a safer lab culture in the chemistry department.
Check out the JST website for more information about JST, safety resources, events, and how to get involved. You can also like and follow JST on Facebook (JST Facebook) and Twitter (@UiucJ).