The American Chemical Society UIUC Student Chapter has been selected as an "Outstanding Chapter" for 2019-2020 academic year and will be recognized for this highest achievement during the 2021 ACS Spring meeting.
Joaquín Rodríguez López, the group's faculty advisor, said it is the highest evaluation possible for a student chapter.
"I only help them with outreach and advice, but they drive all the action and are in charge," he said.
The UIUC chapter is an undergraduate student organization, has more than 80 members, and recent Elizabeth Murphy (BS, '20) was the chapter president in 2019-2020. Chapters are evaluated based on annual reports detailing their activities for the entire year.
The chapter had five goals and successfully executed initiatives toward each one in 2019-2020: Bringing together undergraduate scientists; fostering a love of chemistry; providing a forum for networking with peers and professors; establishing a community of mentoring; facilitating early career development.
A highlight of the chapter's accomplishments include outreach demonstrations to more than 400 students.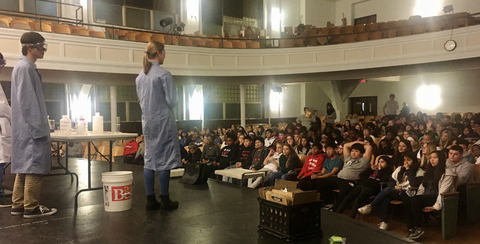 "Members were actively engaged in preparing fun, simple, and informative demonstrations and the students at local schools loved them," the chapter leaders said in their evaluation report.
The chapter also hosted nine informal talks by professors in various fields of chemistry, chemical engineering, and materials science and engineering; initiated a mentoring program in which 50 people were involved and allowed underclassmen to develop strong relationships with upperclassmen in the department; hosted various events with ACS local sections and graduate student organization, which allowed members to network with graduate students and research professionals in industry; initiated a mentoring program; hosted weekly tutoring hours for ACS members and the Department of Chemistry; hosted upperclassmen-led career development panels and workshops; emphasized the importance of undergraduate research, which led to 15 of chapter members beginning research in the 2019-2020 academic year; held panels and workshops discussing research, scientific presentations, resumes, internships, REUs, graduate school applications, fellowships, and various awards and scholarships.
Visit the ACS UIUC student chapter website to learn more about the organization.