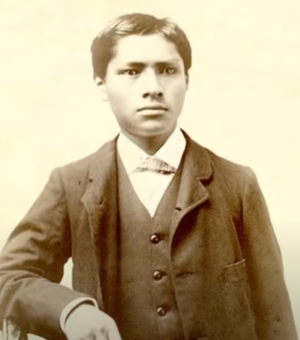 Dr. Carlos Montezuma, a chemistry major, was the first Native American alumnus of the University of Illinois.
He was born in 1866 in the Arizona territory and named Wassaja by his parents. As a small boy, he was stolen from his family in a Pima raid on his family's Yavapai community. He spent his early childhood traveling the West with an Italian immigrant photographer, Carlos Gentile, who named him Carlos Montezuma.
When they settled in Chicago, Montezuma began school for the first time, and he excelled. Gentile eventually resumed traveling to continue his photography and placed 11-year-old Montezuma with the New American Baptist Mission Society, which placed him with a Baptist minister's family in Urbana, Illinois. Montezuma continued to excel in his studies, and at the age of 14, he entered the University of Illinois to study chemistry.  
He continued to excel in college, joining the Adelphic Society where he honed his natural skills as an orator and was elected president of the class of 1884. That year, Montezuma became the first Native American to graduate from the University of Illinois. He went on to medical school in Chicago, where he became one of the first Native Americans to earn a medical degree.
After working for the Bureau of Indian Affairs as a reservation doctor and witnessing the widespread poverty and bureaucratic corruption, he fought tirelessly forNative American rights and citizenship. When his own Yavapai tribe faced removal from their ancestral home, Montezuma went to Washington, D.C., to fight for and finally secure their land and water rights, setting a precedent for other Indian nations.
In 2016, the University of Illinois opened a new residence hall (pictured at right) named Wassaja Hall in honor of Carlos Montezuma.
Wassaja Hall dedicated in honor of Carlos Montezuma
More about Dr. Carlos Montezuma: 
2015 Illinois Library article: "Beckoning Forward: The Extraordinary Life of Carlos Montezuma"
The documentary below, "Carlos Montezuma: Changing is Not Vanishing," tells the life story of Carlos Montezuma, from his boyhood when he was stolen from his family through his death on Jan. 31, 1923. He is buried in the Yavapai cemetery at Fort McDowell in Arizona. The documentary is narrated by Hattie Kauffman, longtime CBS news reporter and anchor, who is a member of the Nez Perce tribe. The documentary was produced by the University of Illinois Office of Public Affairs and the Division of Intercollegiate Athletics, with additional support from the Illinois Humanities Council.