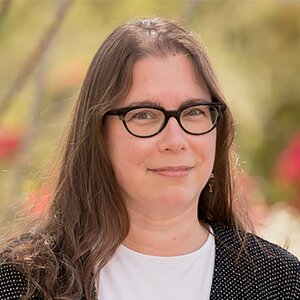 An award-winning researcher and pioneer in the synthesis and use of inorganic nanocrystals as probes of biological systems, professor Catherine J. Murphy has also served as Head of the Department of Chemistry at Illinois since June 2020 when she became the first woman to lead the department in its more than 152-year history.
In the lab, Murphy's research has led to the development of synthetic methods used in commercial production of gold nanorods in environmentally sustainable ways. The Murphy Research Group fabricates colloidal inorganic nanomaterials of controlled shape and size, surface-engineering nanoparticles for chemical sensing, biological imaging, and control of cell behavior with a focus on the plasmonic properties of gold nanoparticles and environmental implications of nanotechnology and sustainability.
The gold nanoparticles created by Murphy, the Larry R. Faulkner Endowed Chair in Chemistry, range in size from 5 to 100 nanometers. To get an idea how small that is, consider this: Your fingernails grow about 1 nanometer per second.
One of those virtually invisible gold nanoparticles might not pack much market value, but Murphy knows that their optical properties have incredible potential in fields from green energy to fighting disease. She is renowned for her pioneering research in this area of inorganic chemistry; in addition to her endowed chair, Murphy is the first woman to receive the American Chemical Society Award in Inorganic Chemistry in 2020, is a member of the American Academy of Arts and Sciences, and the National Academy of Sciences, and a Fellow of the American Association for the Advancement of Science, the American Chemical Society and the Royal Society of Chemistry, and she has been senior editor for the Journal of Physical Chemistry and deputy editor of the Journal of Physical Chemistry C. She also was named to the Clarivate Analytics Highly Cited Researchers list for being one of the world's most influential scientists.
How long have you been at the University of Illinois?
Professor of chemistry at Illinois since 2009; department Head since 2020; and four years as an undergraduate. Murphy earned bachelor's degrees in chemistry and biochemistry from Illinois in 1986. Murphy completed her PhD in 1990 at the University of Wisconsin and her post-doctoral work at the California Institute of Technology before joining the faculty in the Department of Chemistry and Biochemistry at the University of South Carolina in 1993. She was the first female faculty member on the tenure track there, but in August 2009, came back to the U of I, joining the faculty in the Department of Chemistry. 
What is your area of expertise?
Inorganic biophysical nanomaterial chemistry.
What is your research?
In my lab we make nanocrystals of gold, control their size and shape and therefore optical properties. We do a lot of surface chemistry on them and are developing them for sensors, bioimaging agents, and photothermal therapeutics.
What is the impact of your research?
We want nanotechnology to save the world, one particle at a time! For other scientists in this area, there are nanomaterial improvements in solar cells and batteries. For my particular work, some of the lines of research we are working on might be able to help with neurodegenerative disease.
How has your field changed since your career began?
"Nano" was not a field at all when I was a student. It was barely beginning when I began my independent career as an assistant professor in 1993 (at another university). There have been enormous advances in imaging techniques and computational firepower since then.
What is your most significant achievement?
Our past work, in which we developed good procedures for making our nanomaterials, have been widely adopted around the world and have been commercialized. The work we are doing right now is always the most exciting work to me!