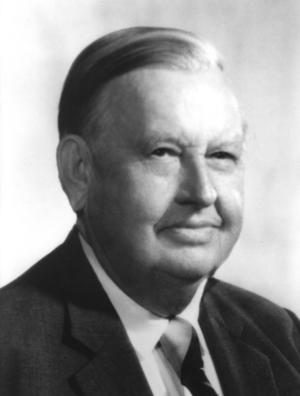 C. S. Marvel was born in Waynesville, Illinois on September 2, 1894. Marvel was first introduced to chemistry while a freshman at Illinois Wesleyan on the recommendation that "the next generation of farmers was going to need scientific knowledge to get the most out of their work". After receiving his BS degree, he entered graduate school in 1915 at the University of Illinois.
During his first semester at Illinois, Marvel took an overload of course work which gave rise to his earning the nickname by which he is most commonly known. After working a late night in the lab, Professor Marvel would sleep as late as possible and still get to the breakfast table before the dining room closed at 7:30. For this remarkable talent he was dubbed "Speed" by his fellow dorm inhabitants.
In 1920, Speed received his PhD in chemistry under Professor William A. Noyes. He then joined the faculty of Illinois as an instructor in chemistry. Speed's role in the training of outstanding chemists began with his first organic qualitative analysis course. Among the students in this course were "Wallace Carothers, who went on to be the number one polymer chemist America has produced; Samuel McElvain, who was to become professor of chemistry at Wisconsin; George Graves, who played an important part in the plutonium plant at Hanford, Washington in WWII and several others who also became leaders."*
In 1930, Speed became Professor of Organic Chemistry at Illinois and in 1953 he attained the rank of Research Professor. Professor Marvel's work at Illinois was truly outstanding. He published more than 400 papers and was in large part responsible for the establishment of the field of organic polymers. While at Illinois, Speed married Alberta Hughes and raised his two children, Molly and Jack. After Professor Marvel's retirement from Illinois in 1961, he began a new career at the University of Arizona and continued to produce outstanding chemistry, adding more than 100 publications to his list of accomplishments. Speed Marvel passed away on January 4, 1988.
Professor Marvel received many awards in honor of his achievements: election to the National Academy of Sciences, 1938; Nichols Medal, New York Section ACS, 1944; Priestly Medal, ACS, 1956; election to the American Academy of Arts and Sciences, 1960; first ACS Award in Polymer Chemistry, 1964; Perkin Medal, American Section, Society of Chemical Industry, 1965; National Medal of Science, 1986.
Speed had an immense role in establishing chemistry in this country as we know it. He served to teach many who were to become our foremost chemists and he pioneered many areas of chemistry for which this country has become so well known. At Illinois, Speed will be remembered with great fondness as one of the initiators of the great Illinois tradition in chemistry.
*Quotes taken from "My 69 Years of Chemistry", C. S. Marvel, CHEMTECH, vol. 10, January 1980.