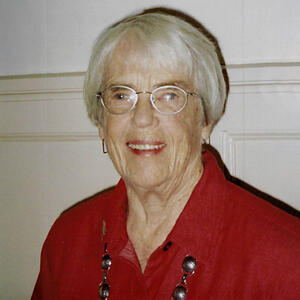 Elizabeth P. Rogers, a former Department of Chemistry faculty member who retired in 1988 after 25 years of teaching general chemistry courses, has died at the age of 100.
As the director of general chemistry when Elizabeth was an instructor, Professor Emeritus of Chemistry Steven Zumdahl worked with her for many years in teaching chemistry to freshman.
"Elizabeth was an extremely dedicated teacher who really loved her students and would do anything to help them," he said. "She had high standards but she was always fair and supportive. She had a great impact on many students' lives over her long career. In particular, she served as a powerful role model to her female students."
Before receiving her PhD, Elizabeth was a research chemist for the Armstrong Cork Company, worked in France for the American Red Cross toward the end of World War II and was a chemistry instructor at Rockford College in Rockford, IL.
After earning her doctorate in chemistry from Northwestern University in 1951, she married the late Robert W. Rogers in 1956. He went on to become dean of the College of Liberal Arts and Sciences at the University of Illinois at Urbana-Champaign, and Elizabeth began teaching in the chemistry department's general chemistry program in 1963. She was appointed a half-time assistant professor in the mid-1970s. She retired with that title in 1988 and was an emeritus professor of chemistry.
But her legacy in the department includes more than teaching. Elizabeth co-wrote what was one of the first online chemistry textbooks, "Fundamentals of Chemistry," complete with videos.
Elizabeth authored three chemistry textbooks individually and one in collaboration with W. H. Brown and also wrote the "anecdotal history of the chemistry department." It's one of several articles on the history of the department.
She was a member of the American Chemical Society, the Illinois Association of Chemistry Teachers, the Champaign Social Science Club, the Krannert Art Museum Council, the World Heritage Museum Guild, Friends of the University of Illinois Library, the League of Women's Voters, the Fighting Illini Chief's Club and many others.
A native of Plymouth, MA, Elizabeth received her BS in chemistry in 1940 and her master's in chemistry in 1942, both from Mount Holyoke College in Massachusetts. According to her obituary, "she treasured her roots in Plymouth but loved the farmlands of central Illinois, where she spent most of her life," and had an unconditional love for her family, Mount Holyoke College, the University of Illinois at Urbana-Champaign and the U of I football and basketball programs.