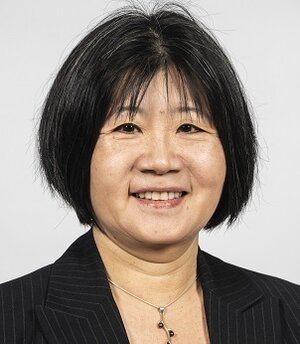 As a research scientist at the National Institute of Standards and Technology in Maryland, Tina Huang had the opportunity to mentor college interns and high school students.
"I really enjoyed that teaching aspect of explaining things," Huang said.
The experience eventually inspired her to accept a position at Lafayette College in Easton, PA, teaching General Chemistry, Quantitative Analysis, and Instrumental Methods. Eight years later, Huang and her family wanted to move closer to relatives in Kansas. She said she was pleased to land an interview at Illinois.
"Another thing that really made me want to come here is that people were just so nice," said Huang, who grew up in a small farming community in rural Kansas, where high school girls took small engine repair and learned to use tools, a skill that she utilized in graduate school working with lab tools.
"We thought (Illinois) would be a better environment for me professionally and for our children. It was definitely a good move," she said.
After several years as an Illinois chemistry instructor, Huang became the Director of Undergraduate Studies in 2017, meeting with prospective students, learning a lot about curriculum, working with advisors, and getting to know more students.
"It was a good transition for me for this new position, because I learned what everyone's roles are," she said.
This summer, Huang became Director of General Chemistry, a mostly administrative role responsible for teaching faculty loads, organic lectures, ensuring courses are staffed properly, overseeing the hiring of TAS and the evaluation and performance of the general chemistry programs.
Huang will still be in the classroom, teaching one sequence of general chemistry along with the lab as well as the majors lab, Chem 205. And last spring, she began teaching Chem 360, environmental chemistry.
As a woman in science, Huang said even in 1993 when she was a graduate student, there was a push to recruit more women to the sciences.
"So, there's been that drive, even 30 years ago, to get women into science. And one of the things that we were always battling is, 'You're in here, because you're a woman,' rather than, I had good grades, I had good GRE scores, I'm good in the lab. So that was one of the biggest challenges," said Huang, who also shared an experience early in her career (prior to Illinois) in which a colleague expressed disregarding resumes of people with foreign last names. "He was just looking at the foreign last name and assuming their English was bad."
People assume certain things rather than asking first, Huang said.
"So the word of encouragement is believe in what you know, and you really have to advocate for yourself," she said, adding that she doesn't like conflict but has learned to speak up in a nice way. "It doesn't have to be confrontational. Tell about your credentials, where you learned to do this, then show them. It's difficult. It takes training. And I didn't get there right away. Really believe in your capability and knowledge; not that you must be the best in the world, but your knowledge and abilities are also valuable."
Outside the classroom, Huang enjoys music and reading, both fiction and nonfiction, and often reads by author. Some favorites are the "God Particle" by Leon Lederman, "Uncle Tungsten" by Oliver Sacks, books by Richard Feynman.
More recently, she has been reading the works of author Sam Kean, who wrote "The Disappearing Spoon" and "Caesar's Last Breath." She was excited when Kean's publisher sent her a copy of his latest book, "Ice Pick Surgeon," to review.
Originally a music major at Bethel College in Kansas, Huang showed musical proficiency at a young age.
"I was very focused on music growing up," said Huang, who was a piano performance and flute major when she took her first general chemistry course at Bethel College and did very well, prompting the professor to ask if she had ever considered changing her major.
"To be a concert pianist is rare. It's one in a million, and I'm not sure I enjoy practicing that much," said Huang, recalling her decision-making process at the time. "I love music, but I don't think I can do it professionally, and that's when I switched my major my sophomore year."
After graduating from Bethel College with a chemistry degree, she worked a couple years in a government water quality control lab in California, before returning to Kansas to pursue her PhD. She moved east for a postdoc position with the National Institute of Standards and Technology and later transitioned to research scientist.
As an instructor, Huang said she wants to be sure she provides the same opportunities and support she was given as a student.
"I had mentors, either TAs or upperclassmen, who never laughed at my questions, and I appreciate that. And I always tell students, there are no stupid questions," she said. "I think If I were shot down immediately or discouraged right away as I was transitioning from music, I probably wouldn't have continued as a chemistry major. I was encouraged to ask questions and never ridiculed. I'm hoping my students would also have that opportunity."