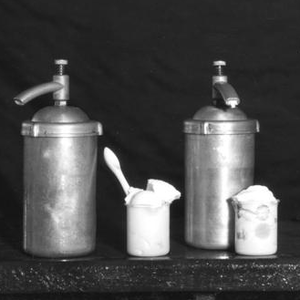 Spray whip cream or "Instantwhip" was invented at the University of Illinois during the depression by Charles Getz, a graduate student in the Chemistry Department and student of Professor George Frederick Smith. Getz found that milk would foam if pressurized carbon dioxide (CO2) was forced into it and the pressure release.
Getz found that the carbon dioxide altered the taste of the whip cream. After numerous experiments, Getz and Smith discovered that nitrous oxide was the solution to the problem because it did not change the taste. This led to the development of instant whip cream in a can in the early 1930s. Professor G. Frederick Smith then used the patented method to create Instantwhip Foods.
Read more about this discovery.