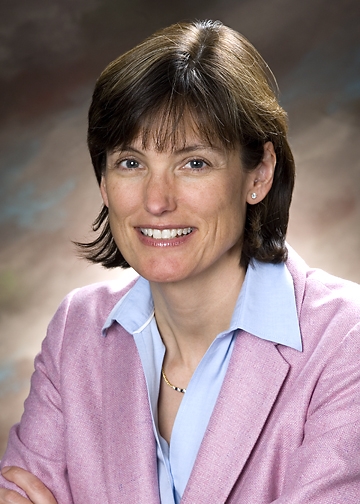 Dr. ANN E. WEBER, PhD, is Vice President and Discovery Chemistry Site Head at the Kenilworth, NJ site of Merck Research Laboratories.  In this role, she is responsible for the discovery of innovative therapeutic agents to treat patients with cardiovascular disease, diabetes, infectious diseases, and neurological disorders.  She joined Merck Research Laboratories in Rahway, NJ as a Senior Research Chemist in 1987.
Dr. Weber's research interests include the design and synthesis of ligands for G-protein coupled receptors, ion channels and enzymes.  Her work has led to 19 development candidates in the areas of obesity, diabetes, atherosclerosis, hypertension, urinary incontinence, and pain, including JANUVIA® (sitagliptin), which was approved by the United States Food and Drug Administration in 2006 as a new treatment for patients with Type 2 diabetes.  JANUMET®, a fixed dose combination of sitagliptin and metformin, was approved by the FDA in March 2007. 
Dr. Weber is the author or co-author of over 70 publications.  She is co-inventor on 29 issued US patents with 10 additional applications pending.  In 2002 she was named among the Women at the Forefront of Chemistry by the American Chemical Society Women Chemists Committee.  She received the 2007 Thomas Alva Edison Patent Award from the Research and Development Council of New Jersey and a Directors' Award, the highest honor that Merck confers on its employees, for her contributions to the discovery of JANUVIA®.  She was part of a team that received the 2007 Prix Galien USA for JANUVIA®, and was named among the 2008 Outstanding Women in Science by the New Jersey Association for Biomedical Research.  In 2010 she received the Robert M. Scarborough Award for Excellence in Medicinal Chemistry and the Heroes of Chemistry Award, both from the American Chemical Society.  She is a 2011 recipient of the Discoverer's Award, the highest award bestowed by PhRMA, and the Science and Technology Medal from the Research & Development Council of NJ. 
Before working for Merck, Dr. Weber obtained her BS degree in chemistry summa cum laude from the University of Notre Dame.  She earned her PhD degree from Harvard University, studying synthetic organic chemistry in the laboratories of Professor David A. Evans.