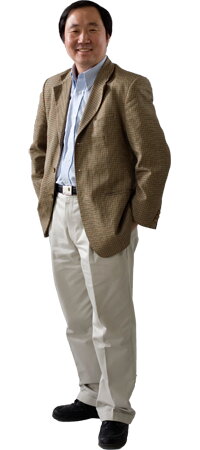 Contact Information
Department of Chemistry
University of Illinois
A322 CLSL, Box 8-6
600 South Mathews Avenue
Urbana, IL 61801
Jay and Ann Schenck Professor Emeritus of Chemistry
Additional Campus Affiliations
Biography
Professor Yi Lu received his B.S. from Peking University, P. R. China in 1986 and his Ph.D. from University of California, Los Angeles in 1992. After two years of postdoctoral research at California Institute of Technology, he joined the faculty at Illinois in 1994. Professor Yi Lu's research interests are in bioinorganic, bioanalytical and biomaterials chemistries.
Research Interests
Biosynthetic Inorganic Chemistry, DNAzyme and Aptamer-Based Sensing and Imaging Agents, and Functional DNA Nanotechnology
Research Description
The Lu group's research interests lie at the interface between chemistry and biology. We are developing new chemical approaches to provide deeper insight into biological structures and functions. We are taking advantage of recently developed biological tools to advance many areas in chemistry, including bioinorganic, bioanalytical, and biomaterials chemistry. Bioorganic and biophysical methods and tools are also being used. Our main areas of research include:
Biosynthetic inorganic chemistry and its application in environmentally benign catalysis in renewable energy generation and pharmaceuticals. Fundamental understanding of DNAzymes and aptamers, and their applications in environmental monitoring, medical diagnostics, and targeted drug delivery.Employing principles from biology for directed assembly of nanomaterials, and its applications in photonics and sensing.
For more and latest information about the Lu group research, please visit Lu group.
Highlighted Publications
Yu, Y., Cui, C., Liu, X., Petrik, I. D., Wang, J., & Lu, Y. (2015). A Designed Metalloenzyme Achieving the Catalytic Rate of a Native Enzyme. Journal of the American Chemical Society, 137(36), 11570-11573. https://doi.org/10.1021/jacs.5b07119
Torabi, S. F., Wu, P., McGhee, C. E., Chen, L., Hwang, K., Zheng, N., Cheng, J., & Lu, Y. (2015). In vitro selection of a sodium-specific DNAzyme and its application in intracellular sensing. Proceedings of the National Academy of Sciences of the United States of America, 112(19), 5903-5908. https://doi.org/10.1073/pnas.1420361112
Xiang, Y., & Lu, Y. (2011). Using personal glucose meters and functional DNA sensors to quantify a variety of analytical targets. Nature Chemistry, 3(9), 697-703. https://doi.org/10.1038/nchem.1092
Tan, L. H., Xing, H., & Lu, Y. (2014). DNA as a powerful tool for morphology control, spatial positioning, and dynamic assembly of nanoparticles. Accounts of chemical research, 47(6), 1881-1890. https://doi.org/10.1021/ar500081k
Bhagi-Damodaran, A., Michael, M. A., Zhu, Q., Reed, J., Sandoval, B. A., Mirts, E. N., Chakraborty, S., Moënne-Loccoz, P., Zhang, Y., & Lu, Y. (2017). Why copper is preferred over iron for oxygen activation and reduction in haem-copper oxidases. Nature Chemistry, 9(3), 257-263. https://doi.org/10.1038/nchem.2643
Recent Publications
Hong, S., Yang, Z., Mou, Q., Luan, Y., Zhang, B., Pei, R., & Lu, Y. (2023). Monitoring leaching of Cd2+ from cadmium-based quantum dots by an Cd aptamer fluorescence sensor. Biosensors and Bioelectronics, 220, [114880]. https://doi.org/10.1016/j.bios.2022.114880
Zhou, Y., Mirts, E. N., Yook, S., Waugh, M., Martini, R., Jin, Y. S., & Lu, Y. (2023). Reshaping the 2-Pyrone Synthase Active Site for Chemoselective Biosynthesis of Polyketides. Angewandte Chemie - International Edition, 62(5), [e202212440]. https://doi.org/10.1002/anie.202212440
Li, N., Wang, X., Tibbs, J., Che, C., Peinetti, A. S., Zhao, B., Liu, L., Barya, P., Cooper, L., Rong, L., Wang, X., Lu, Y., & Cunningham, B. T. (2022). Label-Free Digital Detection of Intact Virions by Enhanced Scattering Microscopy. Journal of the American Chemical Society, 144(4), 1498-1502. https://doi.org/10.1021/jacs.1c09579
Li, N., Zhao, B., Stavins, R., Peinetti, A. S., Chauhan, N., Bashir, R., Cunningham, B. T., King, W. P., Lu, Y., Wang, X., & Valera, E. (2022). Overcoming the limitations of COVID-19 diagnostics with nanostructures, nucleic acid engineering, and additive manufacturing. Current Opinion in Solid State and Materials Science, 26(1), [100966]. https://doi.org/10.1016/j.cossms.2021.100966
Li, N., Wang, X., Tibbs, J., Canady, T. D., Huang, Q., Fried, G. A., Wang, X., Cooper, L., Rong, L., Lu, Y., & Cunningham, B. T. (2022). Photonic resonator interferometric scattering microscopy. In S. M. Garcia-Blanco, & P. Cheben (Eds.), Integrated Optics: Devices, Materials, and Technologies XXVI [120040K] (Proceedings of SPIE - The International Society for Optical Engineering; Vol. 12004). SPIE. https://doi.org/10.1117/12.2606436