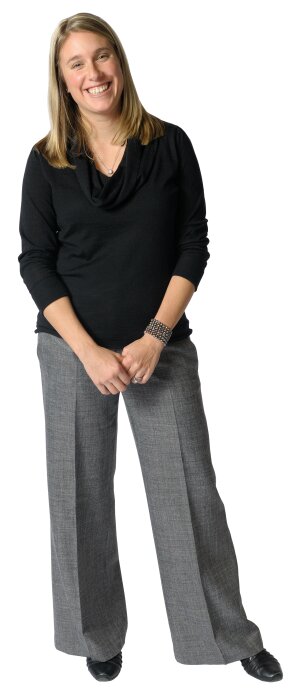 Contact Information
Department of Chemistry
University of Illinois
A406 CLSL, Box 54-6
600 South Mathews Avenue
Urbana, IL 61801
Research Areas
Adjunct Associate Professor of Chemistry
Biography
Professor Fout received her undergraduate degree in chemistry from Gannon University in 2002 and a M.S. from the University of North Carolina at Charlotte in 2004.  In 2009 she received her Ph.D. from Indiana University and was the 2010 recipient of the American Chemical Society Division of Inorganic Chemistry Young Investigator Award for her research at Indiana.  From 2009-2012 she was both a Mary Fieser and NIH Postdoctoral Fellow at Harvard University.  Alison joined the faculty at the University of Illinois at Urbana-Champaign in 2012.
Research Interests
synthetic inorganic and organometallic chemistry applied to bioinorganic, catalysis, and small molecule activation
Research Description
The Fout research program focuses on the synthesis of ligand architectures that can support transition metal complexes capable of mediating unusual transformations for biological, environmental and energy problems. Our main curiosities stem from catalytic, synthetic inorganic, and bioinorganic chemistry. The group is interested in using synthesis, reactivity, and mechanistic studies to understand the activation of small molecules by low-coordinate transition metal-ligand multiple bonds.
Bioinorganic:  We are interested in developing synthetic systems containing structural and functional motifs found within the particular architecture of metalloproteins.  Our approach to facilitate multi-electron transformations is to use a ligand scaffold with two key features: 1) a hydrogen-bonding network to stabilize reactive intermediates and channel substrates toward the metal center; 2) a redox active phenol or tyrosine. The design of new synthetic systems that are tailored to particular functions will provide insight into the reactivity of targeted metalloproteins.
Synthetic Inorganic and Catalysis: First-row transition metals are more abundant, less toxic and more cost efficient than the second and third-row congeners.  We are interested in using first-row transition metal complexes in both stoichiometric and catalytic transformations to effect the reactive scope currently observed by their heavier counterparts. Using strong-field ligands facilitates desired chemical reactivity by suppressing one electron pathways, resulting in new catalysts for two electron bond-making and bond-breaking processes, e.g. oxidative addition and reductive elimination. Iron, cobalt and nickel catalysts are primary targets for their ability to parallel second and third-row transition metal catalysts.  A related topic of interest involves using sterically encumbering ligands to target high-valent coordinatively unsaturated metal complexes for the intermolecular C-H bond activation of alkenes or arenes. 
Students in the group will develop a strong foundation in synthetic organometallic chemistry while developing familiarity with spectroscopic techniques including multinuclear NMR, electron paramagnetic resonance, magnetometry, X-ray crystallography, IR, UV-vis, Mössbauer, and electrochemistry.
Awards and Honors
2019 Thieme Chemistry Journals Award
2018 American Chemical Society Emergent Investigator in Bioinorganic Chemistry, Division of Inorganic Chemistry
2018 Helen Corley Petit Scholar, UIUC
2018 Ed Stiefel Young Investigator Award, Metals in Biology GRC
2017 Camille Dreyfus Teacher Scholar Award
2017 Dalton Lecturer, University of California, Berkeley
2016-2021 Department of Energy Early Career Research Program
2016-2018 Lincoln Excellence Scholar for Assistant Professors, College of Liberal Arts and Sciences, UIUC
2016 School of Chemical Sciences Teaching Award, UIUC
2016 New Talent Americas, Dalton Transactions
2015 American Chemical Society Emerging Investigators in Bioinorganic Chemistry, Virtual Issue
2015 Marion Milligan Mason Award for Women in the Chemical Sciences, AAAS
2015 Sloan Research Fellow
2014-2019 NSF Faculty Early Career Development (CAREER) Award
2010 American Chemical Society Division of Inorganic Chemistry Young Investigators Award
2010-2012 NIH NRSA Postdoctoral Fellow, Harvard University
2009 Mary Fieser Postdoctoral Fellowship, Harvard University
Recent Publications
Killion, J. A., Darrow, W. T., Brennan, M. R., Leahy, C. A., & Fout, A. R. (2022). Cobalt-Catalyzed Kumada Coupling Forming Sterically Encumbered C-C Bonds. Organometallics, 41(14), 1769-1776. https://doi.org/10.1021/acs.organomet.1c00513
Park, Y. J., Peñas-Defrutos, M. N., Drummond, M. J., Gordon, Z., Kelly, O. R., Garvey, I. J., Gullett, K. L., García-Melchor, M., & Fout, A. R. (2022). Secondary Coordination Sphere Influences the Formation of Fe(III)-O or Fe(III)-OH in Nitrite Reduction: A Synthetic and Computational Study. Inorganic Chemistry, 61(21), 8182-8192. https://doi.org/10.1021/acs.inorgchem.2c00462
Gullett, K. L., Nugent, J. W., Darrow, W. T., Najera, D. C., Bender, N. A., Bruske, E. L., Leahy, C. A., Miller, T. J., Muhammad, S. R., & Fout, A. R. (2021). Dihydrogen and dinitrogen complexes of cobalt and nickel. In Comprehensive Coordination Chemistry III (Vol. 1-9, pp. 188-228). Elsevier. https://doi.org/10.1016/B978-0-08-102688-5.00094-5
Leahy, C. A., Drummond, M. J., Vura-Weis, J., & Fout, A. R. (2021). Synthesis of a series of M(ii) (M = Mn, Fe, Co) chloride complexes with both inter- And intra-ligand hydrogen bonding interactions. Dalton Transactions, 50(35), 12088-12092. https://doi.org/10.1039/d1dt02585f
Muhammad, S. R., Greer, R. B., Ramirez, S. B., Goodson, B. M., & Fout, A. R. (2021). Cobalt-catalyzed hyperpolarization of structurally intact olefins. ACS Catalysis, 11(4), 2011-2020. https://doi.org/10.1021/acscatal.0c03727