Urbana-Champaign is approximately 130 miles south of Chicago, 86 miles east of Springfield, the state capital, and 120 miles west of Indianapolis, Indiana. Willard Airport is 5 miles south of town and the Bloomington Regional Airport is approximately 50 miles east.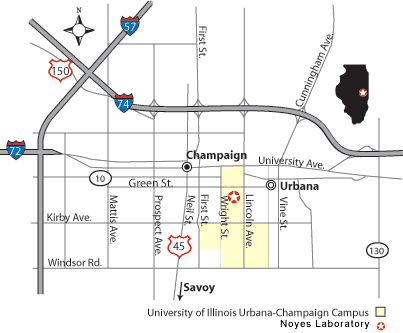 The Department is located in three buildings. They are Noyes Laboratory (NL), Roger Adams Laboratory (RAL), and the Chemical and Life Sciences Laboratory (CLSL). The General Chemistry program is situated in the Chemistry Annex building.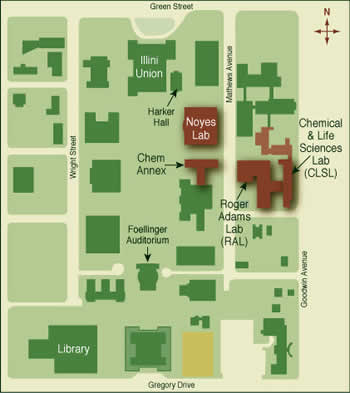 Parking Information
University of Illinois Parking Department
Metered parking is available throughout campus, but open spaces can be difficult to find between 8:00 am and 6:00 pm, and between 7:00 pm and 9:00 pm. All metered parking is $1.00 per hour. Check the hours of use on the meter, most require fees between 7:00 am to 6:00 pm. The metered spaces closest to the Chemistry Department are on Mathews and Goodwin Avenues between Green and Oregon (there are also some parking spots on Oregon).
The Illini Union Hotel and the Hampton Inn Hotel both offer complimentary parking to hotel guests, and are within a 5-minute walk and a 10-minute walk, respectively, to Noyes Lab. The I Hotel and Conference Center also offers free parking and a complimentary shuttle service to and from campus.